Protecting historic buildings and structures from deterioration and decay, and restoring them to meet modern-day standards, requires specialist knowledge and skills that are rarely offered by structural engineers. At Fenton Holloway, we possess the experience and expertise needed to help architects, building owners, and heritage organisations to preserve the nation's landmarks in a sensitive way, respecting their past yet infusing them with a modern approach to conservation.
We are Conservation Accredited. The Conservation Accreditation Register of Engineers (CARE) identifies civil and structural engineers particularly skilled in the conservation of historic structures and sites. We have gone through a rigorous procedure to confirm our range of knowledge of old buildings and our understanding and empathy with the conservation philosophy and methods applied to heritage projects.
Our company offers a range of services related to the preservation and restoration of historic structures and buildings. These services include the structural and civil restoration of historic structures, as well as the redesign of these buildings to blend heritage with modern design elements.

In addition, we ensure full compliance with the Listed Building Consent and Scheduled Monument Consent frameworks, to ensure that all work is carried out in accordance with the relevant regulations and guidelines. Our team also conducts inspections and condition surveys for a wide range of structures, and provides detailed structural assessments and reporting to clients.
We are also experts in structures supporting ornate historic ceilings, including many high-profile appointments as the Structural Engineer under ABTT Guidance Note 20, assessing the configuration and condition of structures supporting fibrous plaster ceilings.
We can carry out urgent works for buildings that are deemed to be at risk. Our goal is to help our clients preserve historic structures and buildings for future generations to enjoy, while ensuring that all work is carried out with the utmost care and attention to detail.
Our Approach
In every conservation project, we prioritise the historical significance of each structure or building to avoid exposing it to overengineering and delivering the best value for the client. We invest the time to rigorously understand the structural demands on the building and determine how conservation or restoration work can be most sensitively delivered to retain existing architectural features.
Where a historic structure has suffered damage or decay, we ensure it is structurally stable, before conducting a detailed condition survey and assessment. This enables us to provide our client with practical, cost-based options to repair the damage, as part of a conservation project or a general reimagining of the existing structure.
We understand that historic buildings require different materials, design parameters, and construction techniques to modern structures. As experts in fibrous plaster ceilings, we have extensive experience in this specific aspect of conservation, particularly in historic theatres and auditoria. From the outset, we will consider what is feasible when renovating or restoring a structure and tailor our advice to reflect this.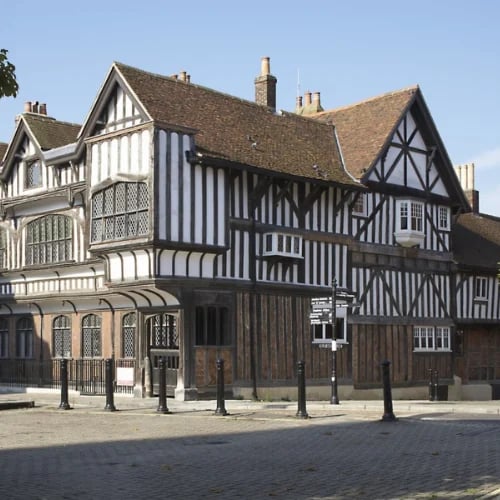 A highly experienced team with a strong partnership with specialist conservation architects and heritage organisations.

We are registered with CARE, the Conservation Accreditation Register of Engineers. We are specialists in historic structures and restoration projects. Our projects include the Great Western Railway Museum, the Tudor House Museum in Southampton, Highcliffe Castle, Cardigan Castle and the Blackpool Tower Ballroom.

Winners of multiple awards, including the Institution of Structural Engineers Award (Heritage Award), RICS UK Award (Heritage Project category), and the Channel 4 Restoration of the Year Award (2017).