Tensile and lightweight structures are a unique, specialist area of structural engineering, in which our expertise has developed over more than 30 years of working on hundreds of bespoke structures of this kind in the UK and internationally.
Fenton Holloway is one of a limited number of global specialist consultants with the expertise to deliver these projects. Our particular strength resides in providing an end-to-end in-house service for our clients, from initial concept design through to analysis, detailed design of the membranes and superstructures, and design of the supporting structures and foundations. We also develop our own in-house detailed three-dimensional models, fabrication drawings and construction information.
Our team's expertise in tensile and lightweight structures has been built over decades of practical experience, enabling us to create designs that are not only visually stunning, but also functional, practical, and cost-effective to build. We are constantly striving to push the boundaries of what's possible in this field, and are dedicated to providing our clients with innovative solutions that meet their unique needs and exceed their expectations.
Long-span roofs
Sculptural structures
Canopies
Cable nets
Atrium roofs
Mesh enclosures
And much more! Read more about our projects below.
Why Work With Fenton Holloway?
The engineering principles in these structures are different to those in general buildings and civil engineering works. For example, structures that use tensile fabric, cables, or mesh, require specialist structural knowledge that many engineers don't have. As the shape determines the way in which the structure works, engineers must be actively involved in form finding. We are proficient in the specialist software and procedures necessary to complete all aspects of form-finding and tensile structural design and already have the skills and resources established in-house to deliver your project within the timescale and budget.
Tensile and lightweight structures are generally exposed, and many elements of the build are bespoke or non-standard. The engineer must have a range of inventive design skills, as well as proficiency with 3D modelling, detailed drawings, and working with complex geometries. By choosing Fenton Holloway, you will have a team of engineers with the right mix of skills and exceptional experience in this field.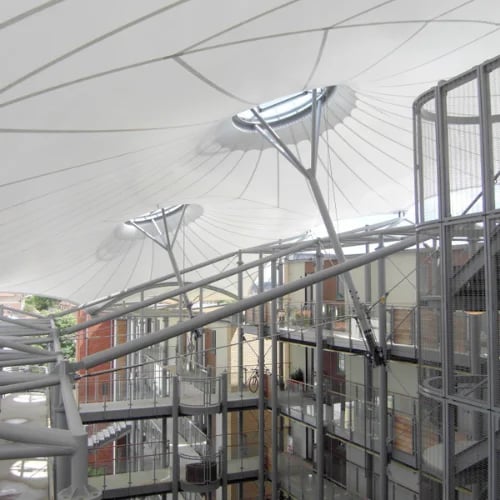 Architects: If you are an architect working on the design of a structure of this type, we are able to provide advice and expertise at any stage of the project.

Specialist Contractors: We also work directly with specialist contractors in the UK and abroad to undertake all design aspects of tensile and lightweight structures.
Most structural engineers have little or no experience in these types of structures. At Fenton Holloway, we can offer advice from the outset of a project, in order to establish the design on a firm footing. Our comprehensive service covers all structural, functional and visual aspects of the structure, as well as providing advice on construction methodology and costs.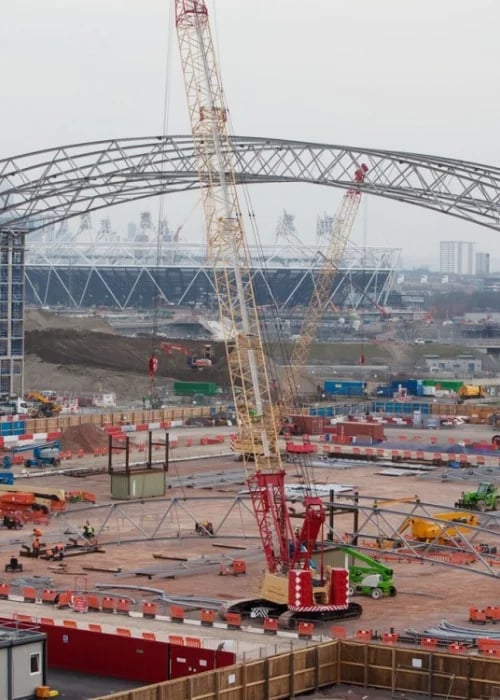 Our Projects
We work with clients in both the UK and internationally and are able to take on projects anywhere in the world. Examples of past projects include the London 2012 Olympic Shooting Arena, the Eden Project Ice Rink, and the New York Allonge installation alongside Zaha Hadid Architects. We also designed the London 2012 Olympic Basketball Arena, a tensile lightweight structure that was the largest demountable building ever used in the Olympics and since. Please explore our portfolio to read about these and other case studies, or contact us for more project information.

Case study:

Sculptural installation, Manhattan, New York – We worked alongside Zaha Hadid Architects to design an extremely lightweight structure full of dynamism and movement in Manhattan, New York, which was almost 40m in length.



Case study:

London Olympic Shooting Arena – We were appointed to provide structural engineering and membrane services for a specialist contractor working on temporary demountable buildings for the shooting arenas used in the London 2012 Olympic and Paralympic games.



Case study:

Newhaven Energy Recovery Facility

– We designed a large-scale PVC-coated high tensile wire mesh system for the domed facility at the Newhaven ERF, working closely with a specialist contractor to deliver the first bespoke installation of its kind.