Over the years, we have undertaken a wide range of prominent civil projects across the UK and internationally, ranging from the restoration of heritage marine structures to the design of new architectural footbridges.
We have broad experience in conservation engineering for a wide range of historic civil and marine structures, ensuring integrity and usability for future generations. Our team have the knowledge and expertise to provide you with a complete solution for all civil structure restoration and repair projects and help with a range of redevelopment challenges.
We also have a strong track record in the design of new civil structures, particularly architectural footbridges. Clients and architects alike value our combination of strong civil engineering background with a distinctive design flair and creative approach.
Our team have the specialist skills and experience to tackle a wide range of new and existing civil structures, as well as particular expertise in heritage, civil, and structural engineering, allowing us to help you with all design and engineering aspects of your project.
We can also help with the preliminary aspects of a restoration project, including assisting you to apply for Heritage Lottery grants and other funding sources.
Our services include:


Feasibility studies
Expert advice and consultancy
Design calculations and technical drawings
Methodology planning
Budgeting and financial planning
Surveying, assessment, and strategy
Projects We Work On
New and existing civil structures we work on include:
Bridges
Piers
Marinas
Breakwaters, quay walls, and revetments
Docks
Harbours
Jetties
Other transport infrastructure
Clients include the (UK) Environmental Agency, Local Authorities, and other asset owners. We regularly work with architects, engineers, and specialist contractors as part of a wider design team. Aside from our UK projects, we have also worked internationally on industrial marine and civil structures for clients in Europe and Africa.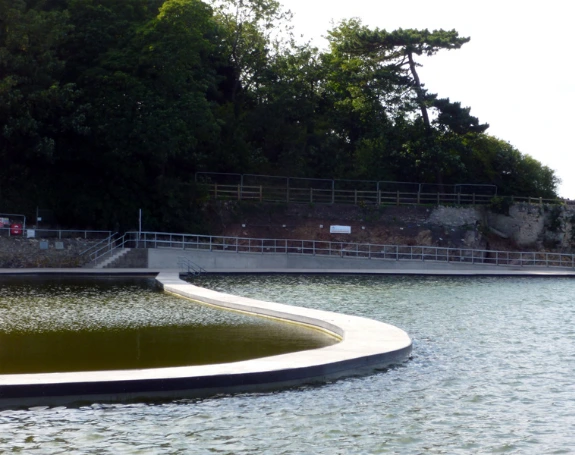 Examples of a couple of our projects can be seen in the project links below, demonstrating how our specialist knowledge in conservation engineering can help you achieve the best design and engineering outcomes for your project.
Case study: Clevedon Marine Lake – read about our work as the lead consultant on Clevedon Marine Lake, responsible for the restoration, conservation, repairs, and improvement of this 1920s tide-filled leisure lake situated on the Bristol Channel. The Clevedon Marine Lake restoration won the ICE Regional Award 2016. Please explore our portfolio to read about other case studies, or contact us for more project information.