Structural Engineering
Fenton Holloway were responsible for the structural engineering and design of this striking aerial display of 14 monumental ship figureheads at The Box, Plymouth. Suspending these gigantic historic figureheads was a unique challenge, as the timber was in extremely poor condition, and the figureheads are of unusual shape and weigh up to several tonnes each. The work involved the conservation and repair of the historic sculptures as well as the development of bespoke suspension system solutions to achieve the desired visual effect.
When removed from the ships they were on, the figureheads were placed on docksides, and were repaired/conserved in the 1970's by covering them in GRP. This led to sealed water inside and caused serious decay. When the GRP was carefully removed it was clear the carved surfaces were very fragile, and if allowed to desiccate fully would disintegrate before they could be preserved and presented. We worked closely along the conservators to find suitable products that would stabilise saturated timber to aid the the restoration process.
Suspension of the figureheads required close collaboration between Fenton Holloway and the conservators. Each figurehead was assessed for degree of damage supported by careful stripping of the GRP and opening up and dismantling where required. The survey work involved sonic tomography – a non-invasive method normally used to detect decay in trees.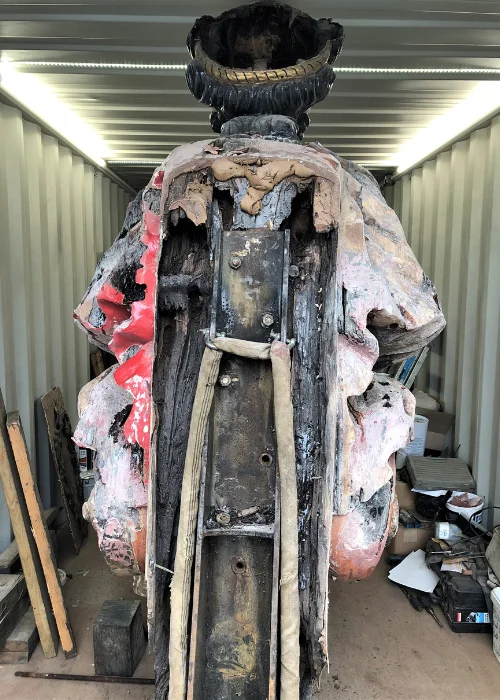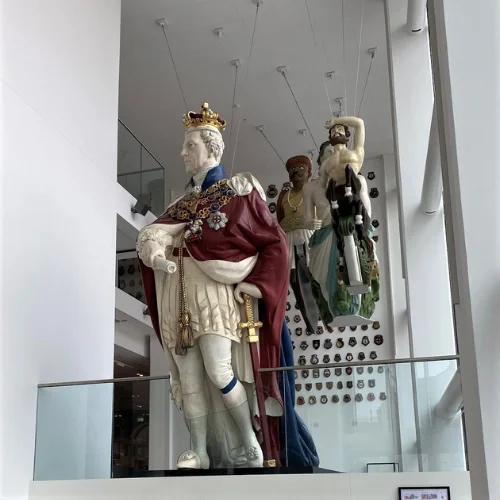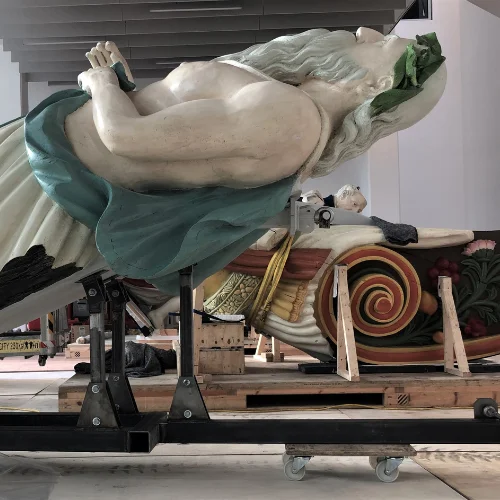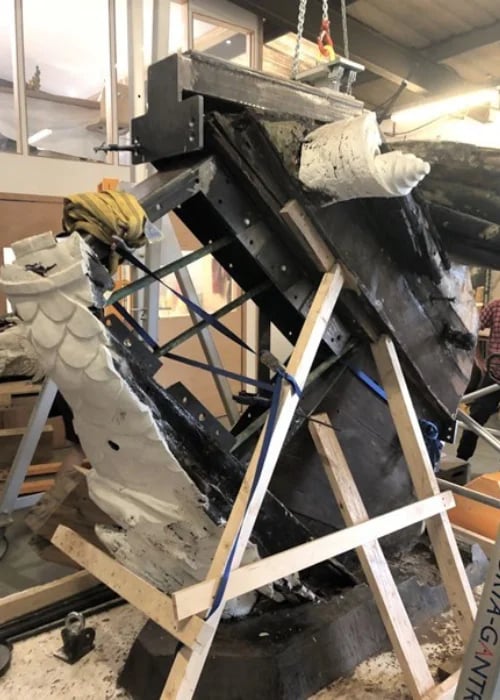 3D Modelling
Laser and photographic scanning was carried out in two stages, firstly prior to any dismantling, and then when the resulting shells of carved timber had been stabilised following removal of internal decay. We physically inspected the figureheads at progressive stages of GRP stripping and stabilisation works, and we advised on temporary reinforcement of the shells and figureheads as they were dismantled.
We developed internal reinforcement options and suspension system details using 3D scanning and 3D modelling software. The new suspension elements were combined in the model to determine precisely the centre of gravity of each figurehead. It was the exhibition designers' request that all figureheads rested at similar angles when hung, despite them being very different in size, shape and composition, with varying internal densities. The perfect orientation of each figurehead was ensured by developing bespoke suspension systems which mimicked in part the type of support the figureheads had when ship-mounted.
To avoid damage during transport and installation of the heavy figureheads, the final suspension fixings were developed to incorporate temporary transport and stabilisation frames, which were removed once delivered to site. Installation was smooth, no adjustment was needed – the figureheads were lifted into place with temporary fixings and connected to the ceiling-mounted suspension points using cables and forks usually used in the marine industry.
This ambitious project won the Museums + Heritage Awards 'Restoration/Conservation Project of the Year 2020', and received extensive media coverage including various articles in the BBC and the Guardian (links?).